In March of 1988 The Texada Island Heritage Society made application to the Texada Island Branch of the Royal Canadian Legion for use of the abandoned War Memorial Cenotaph in Van Anda Bay for the purpose of a Historical Site Cairn. Once the application was granted, the Society proceeded to obtain additional permits, funding, grants and volunteer labour, which would be needed to complete the project. Resurfaced with native Texada Island rock which was embedded in concrete and each side having a plaque attached, a new guard railing and the grounds improved the cairn was completed in 1992.
This cenotaph was erected in 1952 by The Royal Canadian Legion Branch 232 – Given to the Texada Island Heritage Society in 1988 to become this Memorial. – Financially assisted by the Ministry of Municipal Affairs, Recreation and Culture through the British Columbia Heritage Trust and British Columbia Lotteries.
Plaque Reads:
UNION STEAMSHIP CHESLAKEE TRAGEDY
Here the Union Steamship Cheslakee docked in the early hours of January 7, 1913. She started out for Powell River but fierce southeast winds made her list, causing deck cargo to shift and seas to enter open midship ports. Captain Jack Cockle returned to the wharf and put 90 people ashore, some heroically rescued by himself. The ship sank rapidly, drowning the cook, two loggers, a mother and her child, and two schoolteachers who would not leave their cabin improperly dressed. Some believe that anonymous loggers were also drowned, confined below deck.
The Cheslakee was salvaged and become the first west coast vessel to be "Stretched" with a new center section. It was renamed Union Steamship Cheakamus, served as a troop transport in W.W.11, and was scrapped in the late 1940's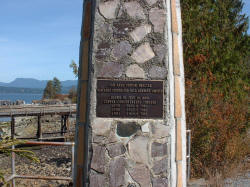 Accession Number: 2006.90.13
Plaquel Reads:
Van Anda Copper Smelter
Van Anda Copper and
Gold Company Limited
Blown in July 15, 1899
Copper Concentrates Treated
1899 5000.0 Tons
1900 9527.5 Tons
1901 3016.0 Tons

Accession Number: 2006.90.14
Plaquel Reads:
Some Mines In The
Old Texada Island Mining Camp
Van Anda Copper and
Gold Company Limited
Copper Queen, Little Billie, Cornell, Security, Florence
Marble Bay,
Marble Bay Fraction 1 & 2
Raven Mine, Loyal Mine, Kirk Lake Gold Mines, Lorindale Surprise Mine, Commodore Mine, Puget Sound Iron Company, Gem Mine